Period Table of Spectra Periodic Table of Spectra
Our gorgeous Periodic Table of the Elements poster is a wonderful teaching aid and a great compliment to your current periodic table.
See the emission spectra of all the elements. Your students will immediately understand that each element has its own spectral fingerprint.
Hang it in your office, lab, man-cave or women-cave.  We're sure that with a bit of negotiation you'll be able to convince your spouse, partner, roommate, parent or dog to let you hang it in your living or dining room…
Above: Tom Field of Field Tested Systems showing
Neil deGrasse Tyson our new poster
This 1.5 mil laminated poster is 24″ x 36″ and is a high-quality, high-resolution print with brilliant colors.
Also, makes a great gift to a colleague or office-mate!
Above: the Periodic Table of Spectra on display in the control-room of the
NASA airborne Boeing 747 telescope SOFIA. (NASA printed it on metal in two pieces.)
Click for larger view.
Poster Price: $29.95   To order in the US: link.
US shipping:
US shipping is $10.95 via USPS Priority Mail. Delivery time: 2 to 3 days. Up to 3 posters fit in one mailing tube so the shipping cost is the same for up to 3 posters!
For more economical shipping in the US, order a poster but don't include any other products in the order. When you check-out, you'll see an option for shipping via USPS Media Mail for $6.95. Delivery time:  2 to 3+ weeks.
International shipping:
Un-laminated version:  Poster price: $29.95.  International shipping is $6.95 for each un-laminated poster. Order: link.
Laminated version:  Poster price: $29.95.  International shipping is $30.  We can fit 3 posters in one international mailing tube so the shipping cost is the same for up to 3 posters. Order: link.
Contact us for quantity pricing for 6 or more.
Purchase with a credit card or PayPal in our store (link) or PO sent to us via our contact form (link).
Order here:
US version: link.
International version: link.
Accredited institutions: You can request a quote or send a PO using our contact form:
link
.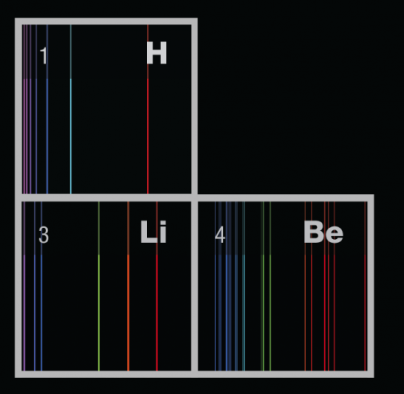 Above: poster close-up showing
the Hydrogen Balmer series.
Also available as iPhone cases and mugs
Here's a great gift idea! Check out our iPhone cases, mugs and tee shirts: link.
Are you frustrated teaching light & color and Spectra?
Our RSpec Explorer spectrometer (below, $395) is a compact, turn-key live video spectrometer.   Whether it's used for hands-on labs or classroom demonstrations, teachers love this easy-to-use device.  Learn more: www.fieldtestedsystems.com.
Use your DSLR to capture the spectra of stars!
Screw our Star Analyser 100 grating onto the lens of your Canon or Nikon DSLR and capture the spectra of stars like the one below.
When you load the photo into our Windows real-time spectroscopy software, RSpec, you'll be able to detect the hydrogen and other elements on the star:
Great for a high school science project or the scientifically or artistically curious adult. Getting started is easy. The grating is $195.  The software comes free with our RSpec Explorer spectrometer and is $109 by itself. (Optionally, our $39.95 AD-58 thread adapter adapts your camera's lens cap threads.)
We'll be there for you every step of the way.
Questions? We love answering questions and helping newcomers get started. Send us a note: link.
Capture Spectra of Stars in your backyard
More details on capturing star spectra: link.